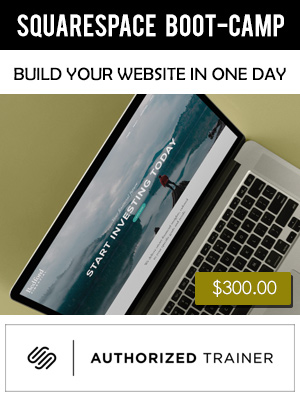 Squarespace Boot-camp
HANDS-ON SQUARESPACE BOOTCAMP
Learn how to build your own website and make it beautiful and search engine friendly at this hands-on Squarespace workshop.
 
This Squarespace workshop is for business owners, entrepreneurs, bloggers, or anyone wanting to build a beautiful website quickly and easily. In this training, you'll learn the basics of how to build and design a beautiful modern, mobile-responsive website using Squarespace's awesome drag and drop CMS, no coding needed.

BOOTCAMP/WORKSHOP OUTLINE
• Starting a trial
• picking a template
• Understanding layout
• Understanding domains
• Creating new pages
• Adding content and images or video to pages
• Understanding Blogs
• Using Summary widgets to push content dynamically across the your site pages
• Navigation
• Starter layouts, blocks
• Creating A forum and collection forms info options
• Styling your site - title colors, heading colors, hex codes, tweaks, revert changes, fonts

PREREQS & PREPARATION

• Preparing written content and gathering images/photos prior to class is encouraged but not required. We will send a suggested list of tasks to be completed prior to the workshop. Students who come prepared can complete much of their website during the workshop.
• A laptop and power cord must be brought to class.